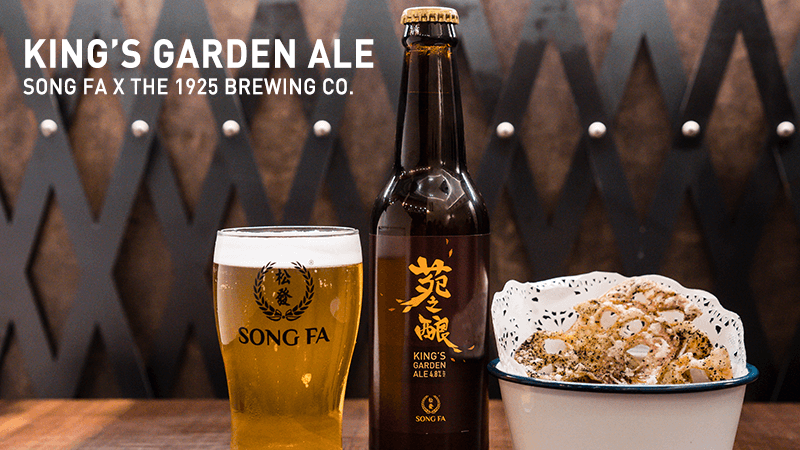 Song Fa x The 1925 Brewing Co. #songfa50
30 Dec, 2019
Song Fa Bak Kut Teh has collaborated with Singapore's local craft beer brewery The 1925 Brewing Co. to launch our very first tea beer, 苑之酿 King's Garden Ale!
This is our second collaboration with local brands in our #supportlocal campaign. (Find out more about our first collaboration with wheniwasfour here)
Drinks bar uncle is now an expert at the beer tap
King's Garden Ale (苑之酿) is a pale ale, crafted from the tea leaves of Song Fa's own blend of tea, the King's Garden Tea. This is the first tea beer in the world designed specially to complement Bak Kut Teh!
At 4.8% alcohol content, you can still taste the subtle dryness of oolong tea and sweetness of green tea, as well as the fragrance of chrysanthemum flowers.
King's Garden Ale and Song Fa's signatures – a match made in heaven
Besides Bak Kut Teh, King's Garden Ale tea beer also pairs well with the rest of Song Fa's menu, such as the braised pig trotters and homemade Ngoh Hiang. A must-order is the deep-fried lotus root chips, which our chef created just to match the drink.
The outlet as a cosy 'drinking area', designed after olden Singapore drinking spots
Come and try our newest tea beer together with our Bak Kut Teh and let us know what you think! 
King's Garden Ale tea beer and Lotus Root Chips are exclusively available at our newest outlet, Velocity @ Novena Square.
Song Fa @ Velocity (Novena Square)
#01-56/57/58
238 Thomson Road
Singapore 307683
Tel: +65 6261 5283
10.30am – 9.30pm (Daily)
FAQ
What beer is it?
King's Garden Ale, a pale ale crafted with Oolong, Green Tea and Chrysanthemum flowers. The very same blend from our King's Garden Tea!
What are the notes?
Fruity, citrusy and with a 4.8% alcohol content.
Where can I try the beer?
It is exclusive only at our Velocity @ Novena Square outlet for now!
Did you craft it yourselves?
We worked with the amazing guys from The 1925 Brewing Co. Helmed by brothers E.K Yeo and celebrity chef Ivan Yeo, The 1925 Brewing Co. is a local Singaporean craft brewery that designs, brews, and distributes Asian styled craft beers for the modern Asian palate.
Visit www.the1925.com.sg to find out more about them!
Tea and Beer and Bak Kut Teh? What was your inspiration?
We are always innovating to bring new dishes and creations to you. In our efforts to cultivate the tea-drinking culture to more Bak Kut Teh lovers, we decided to design and craft a tea beer which complements our local dish, while maintaining the flavours of Kungfu tea.
What's the best dish to pair it with?
Our hot peppery bak kut teh, definitely! Or, get your recommendations from our friends here:
Food King! By NOC
Watch on IGTV here
@sylvialovesg
Eatbook.sg