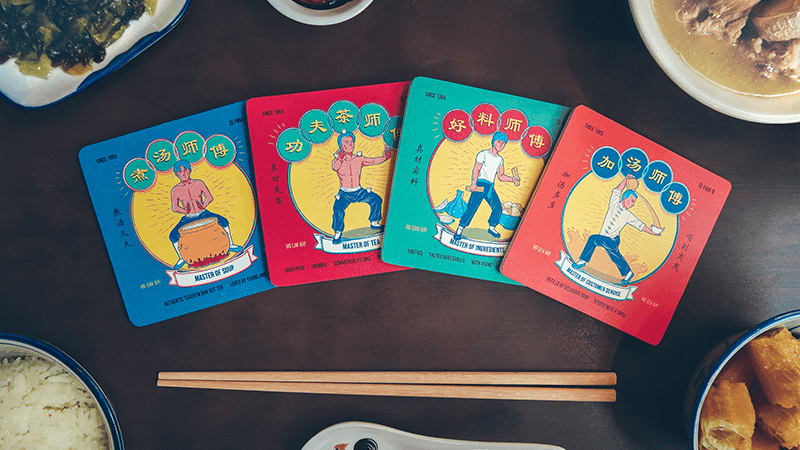 Song Fa x Wheniwasfour #songfa50
01 May, 2019
In celebration of #SONGFA50, we teamed up with local design house Wheniwasfour to bring you a collection of bespoke bak kut teh-themed merchandise! The collection includes acrylic keychains, pins, magnets and wooden coasters, designed around the concept and every day terms related to eating bak kut teh.
Our four Bak Kut Teh Kungfu masters, demonstrating the (martial) art of creating an authentic bak kut teh experience
Wooden Coasters @ $5.50/pc 
Our friends from Wheniwasfour thoughtfully selected a palette of fun and bright colours; yet not only do these colours bring out the personality of bak kut teh, they amazingly kept the nostalgic Nanyang feel of this Singaporean dish.
We all have that one friend who always like to yell "加汤"
 Acrylic Keychains @ $6.90/pc
一碗热汤,一喝即发 Drink and prosper with a bowl of hot soup!
一起品茶,一起发呀 Let's prosper together while enjoying a round of good tea
Our favourite yet is the set of bite-sized acrylic pins, representing the three main icons of the hawker culture of Singapore in the 1960s; the Rooster Bowl, Good Morning Towel and Kungfu Tea pack. Super wearable and decorative!
The more we look at the bowl the more we can imagine the different types of food that fill it #hungry
Acrylic Pins @ $8.90/pc 
The tiny Good Morning towel is so cute we can't deal with it
Our Bak Kut Teh Kungfu Master hard at work, reminding us to drink tea while eating bak kut teh
If you're looking to get a little something for your family, impress them with our acrylic magnets! You'll notice that the borders are inspired by the traditional Chinese lunar calendar, with small HUAT sayings on both sides.
(The magnetic strength is very strong, according to the review of
@handxmade
#triedandtested)
May everyone HUAT with every bowl and every cup
Acrylic Magnets @ $4.90/pc 
Song Fa x Wheniwasfour merchandise collection is exclusively available at selected Song Fa outlets:
Jewel Changi Airport
Chinatown Point
The Centrepoint
HarbourFront Centre
11 New Bridge Road
Amazing illustration from Wheniwasfour - down to the last paint stroke of the rooster's tail feather
MENU
Wooden Coasters
$5.50/pc
$20/set of 4
Acrylic Keychains
$6.90/pc
$20/set of 3
Acrylic Magnets
$4.90/pc
$14/set of 3
Acrylic Pins
$8.90/pc
$24/set of 3
*set can include items of the same design
"I want to order a set meal please – one each of everything."
Check out our retail page or Facebook for the full collection of designs!
Song Fa Bak Kut Teh
Wheniwasfour