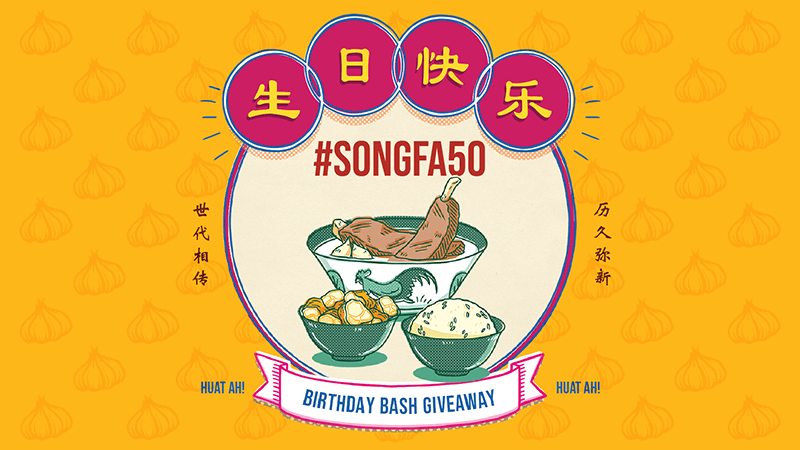 #SONGFA50 Birthday Bash Giveaway
24 Dec, 2019
A BIG THANK YOU to everyone for your amazing Birthday wishes!
They were creative, touching, and most importantly they made us smile. We had a great time reading them all and we would love to share them with you.
Here is a collection of some of our favourites!
Winner of Week 1 by @jncheng
Prime ribs SONG
FA off bone
So much BAK
Soup so KUT
Paired with TEH
Feels so HIGH
HAPPY 50TH BIRTHDAY!
Winner of Week 2 by @linqinwei
The first time I had the Pork Ribs Soup, I felt so SONG!
With 10 outlets in Singapore, I don't have to worry about travelling FA to satisfy my cravings.
You always got my BAK when I'm feeling low!
You make me feel KUT with your hot, peppery soup!
TEH never fail to cheer me up!
HAPPY 50TH BIRTHDAY SONG FA! 🎉
Winner of Week 3 by @myingz
当菜点完,我悄悄把皮带[松]开。
食物一一送入口中,我便[发]自内心的笑,感到十分满足。
那美味的[肉],香喷喷的汤,[骨]肉分离之后,滋味依然回味无穷!
[茶]余饭后时总是惦记着
【松发肉骨茶】! 
@songfabkt
, 生日快乐!🎉😍
Winner of Week 4 by @usernameforjas
Wish I could write a SONG,
About how FA I am willing to travel for you..
When I see you walk BAK and forth to refill my soup,
I wanna say a big thank KUT to you,
For really being TEH best thing that ever happened to me.
Happy 50th birthday SongFa! 💕
Heartfelt Mentions
@jovan_lu
Song Fa Song Fa jin jiak song,
Prime ribs Bak Kut jiak ga liao,
Pepper pork soup lim kang kang,
Give me more soup jin happy,
Happy birthday song fa huat!
@songfabkt 🍖🍵💪😋
@wanyuwanyu
松發肉骨茶陪伴我家人大大小小过生日,暖了胃也暖了心❤。
生日象征年年有今日,岁岁有今朝。
松發年年發,日日兴,岁岁潮。
让隆重人都吃得到诚意,喝得到暖意,感觉得到温馨。
生日快乐,轻轻松松,發發發!
@eh_delay_no_more
There is a hero call Yeo Eng Song,
Create an dynasty for me to jiak song song,
I'm the best candidate for the birthday bash bag,
Guarantee your business full of cash💰,
Everyday celebrate, by singing a "SONG"
But first "FA" me the birthday bash bag.
Thank you 🙏🎉🎉🎉happy 50th birthday
@chimpinzee
Song fa 松礼庆五十,
发展本地与海外,
肉嫩汤浓气氛好,
骨肉相连代代传,
茶中飘香带甘甜
Happy 50th Birthday Song Fa BKT!
@greenteabiscuits
🎶 You are my Songfa~ My only Songfa~
you make me happy~ with Bak Kut teh~
you never know dear~ how much I love you~
please don't take~ my BKT away 🎶
HAPPY 50TH SONGFA!!
(Ps. On a side note, your seasonal item roasted pork belly is SOOOOOO GOOOOOD.
please don't take~ my Sio Bak away 😭)
@ oppsytipsy
肉骨要细细地品尝,汤要一口一口地喝,
成长要一点一点累积,辛福要一点一点感悟。
时光匆匆,岁月流逝,
松發看着我们长大,我们也见证了松發的成长。
愿松发称心如意,
轻轻松松發發發
@twistthebox
Song Fa Ba Kut Teh,
A taste familiar to all,
left many in awe.
.
Withstanding changes,
Song Fa still remains our fave,
the same old goodness.
.
A haiku or two,
Might not make your heart feels full,
But a bowl will do.
@pris_enen
Happy 50th birthday Song Fa! ❤️🎂❤️
From a humble pushcart, to Michelin Bib Gourmand,
a piping hot bowl of Bak Kut Teh is always very SONG😋.
From Jewel to Jem🚇, Singapore to International ✈️🌍,
no distance is too FA, to stop my love for this traditional Teochew dish.
I could write into a SONG, on how FA your legacy has come 💕
since 1️⃣9️⃣6️⃣9️⃣💕
@presentpicture
😋
轻轻松松去松发
发现美味肉骨茶
茶来一壶配肉骨
回味无穷在松发!
祝松发生日快乐!